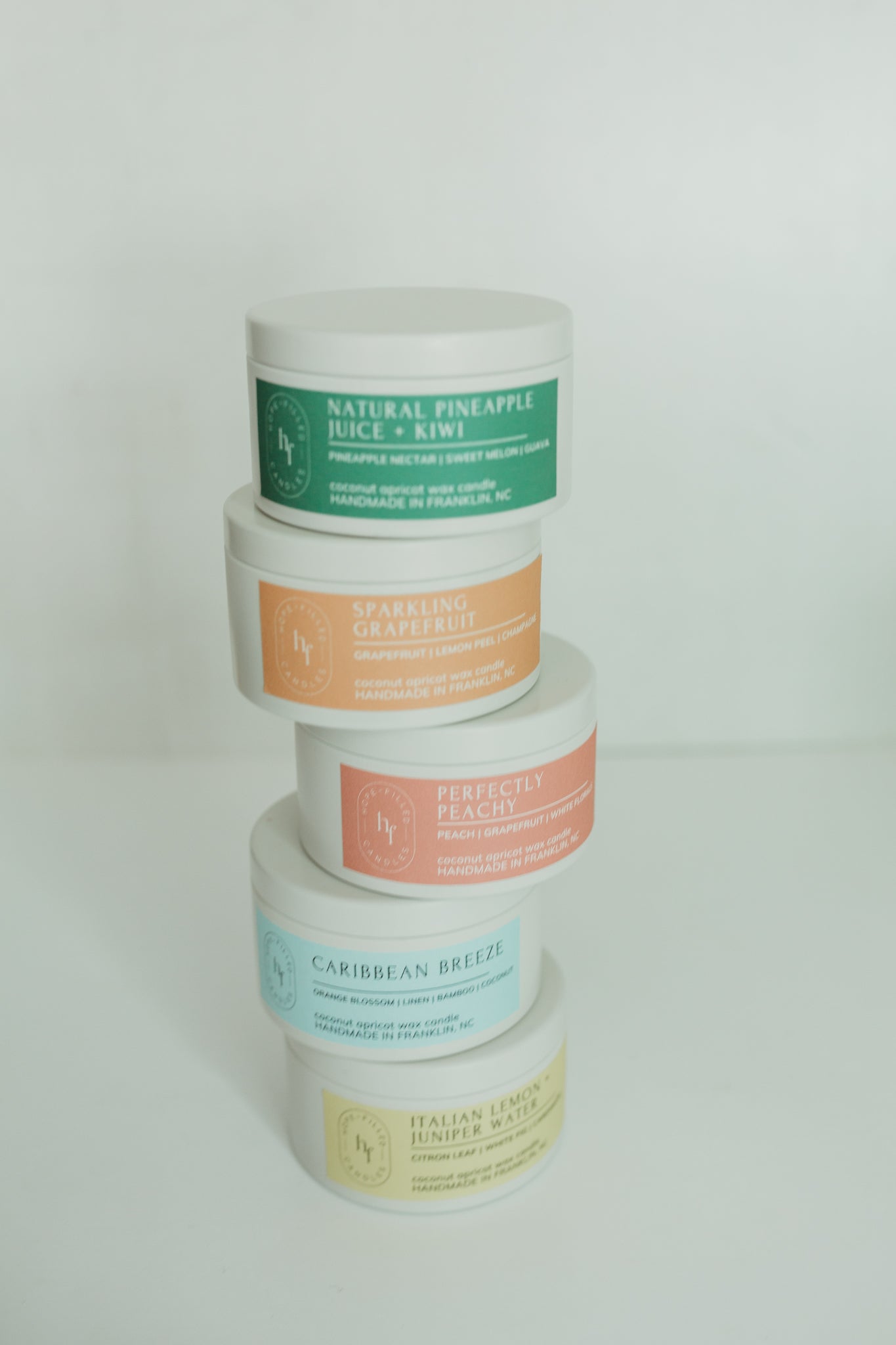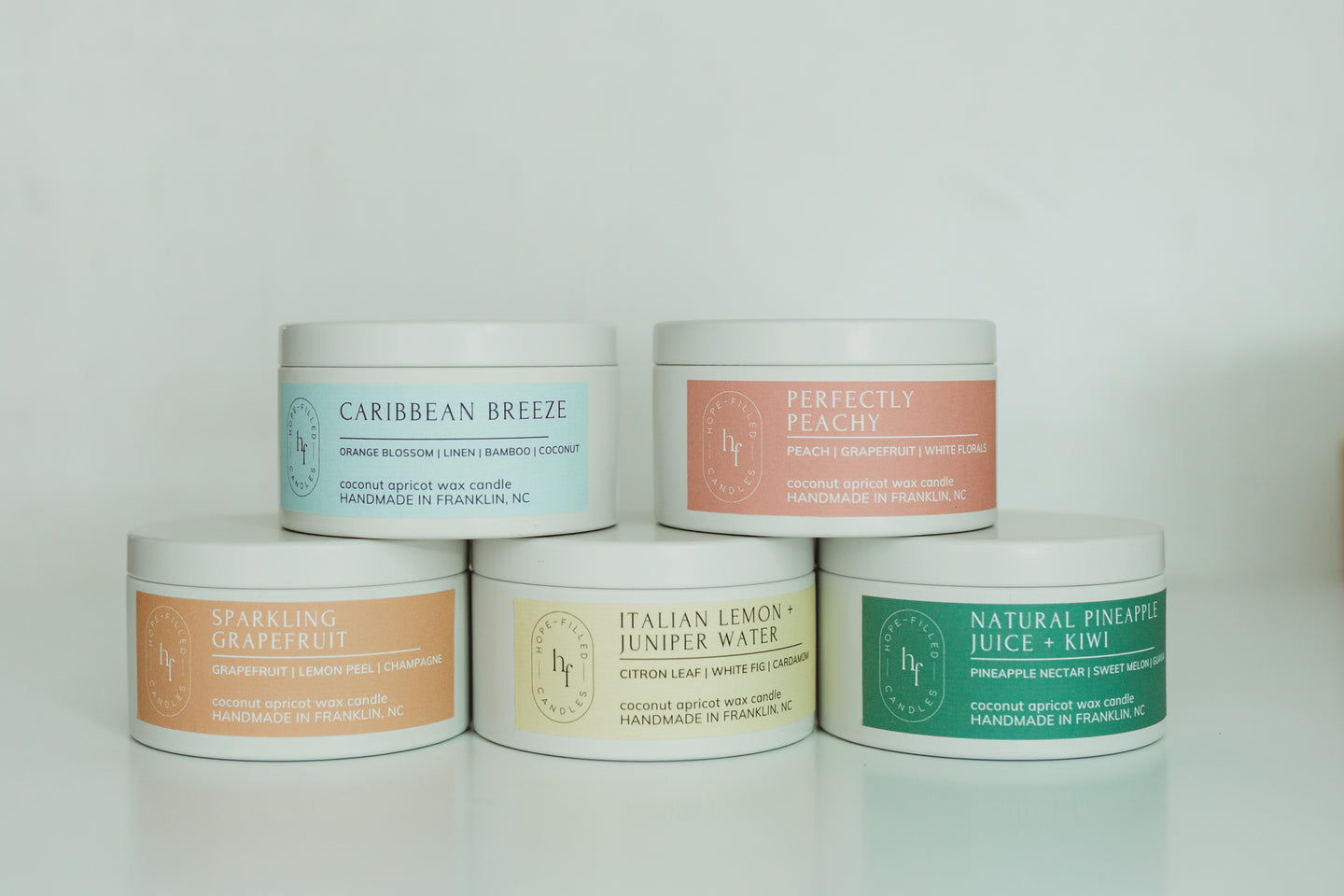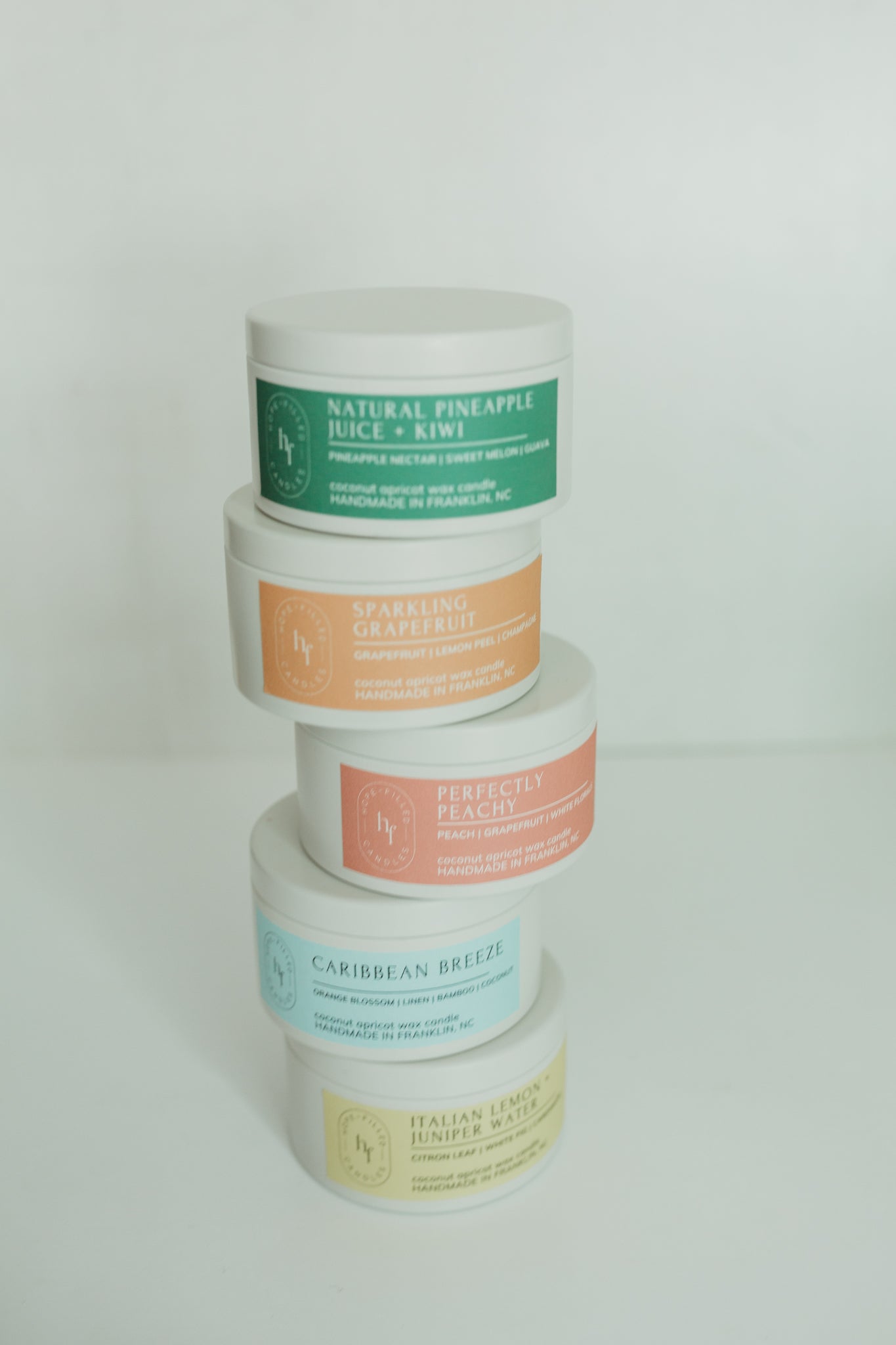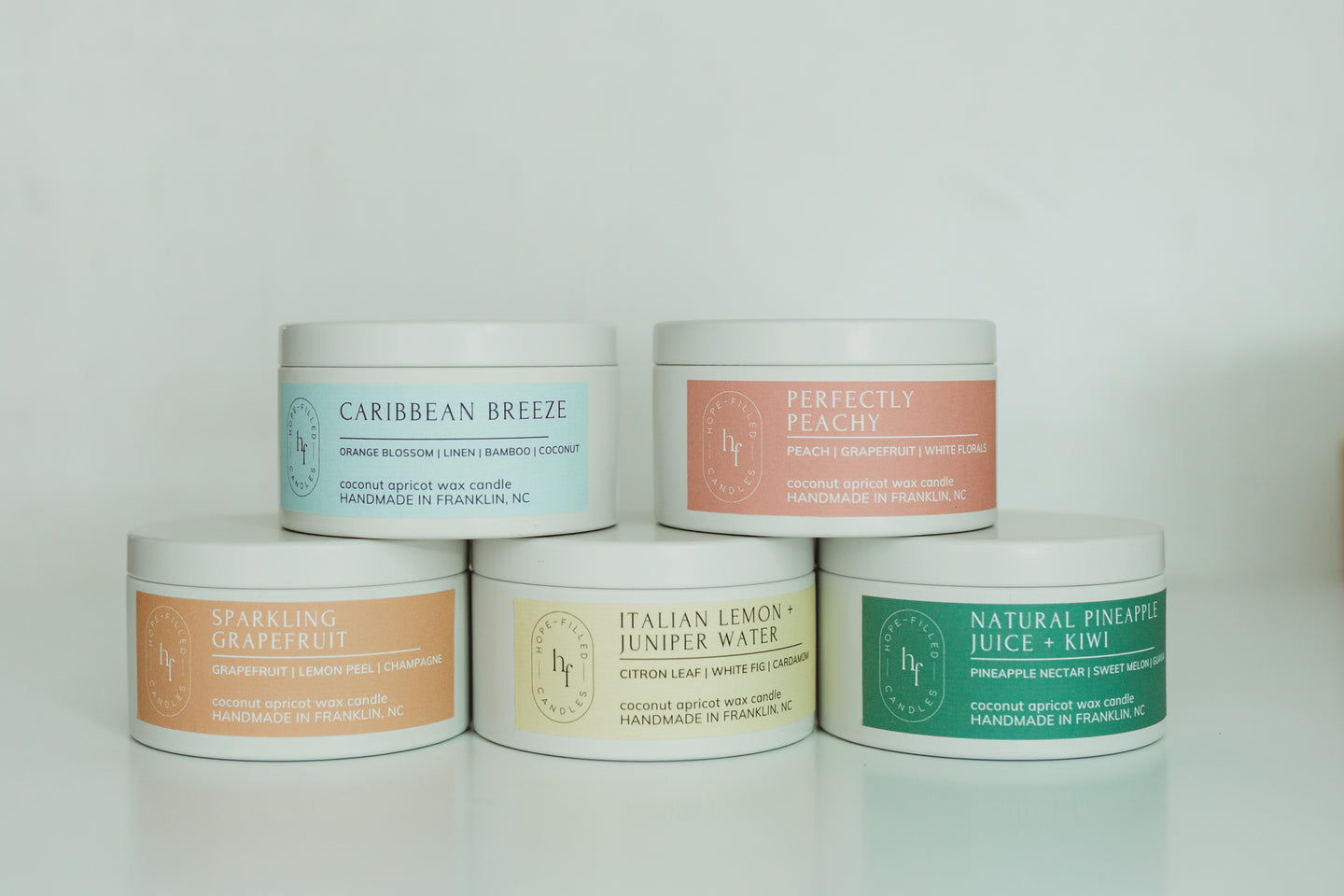 Summer Tins Bundle + Save
Regular price

$100.00 USD

Regular price

$120.00 USD

Sale price

$100.00 USD

Unit price

per
Bundle and save when you purchase all five of our Summer Tins!
Includes the following 5oz. candles:
Italian Lemon + Juniper Water
Perfectly Peachy
Sparkling Grapefruit
Natural Pineapple Juice + Kiwi
Caribbean Breeze
Product Details:
• Net Weight: 5oz / 141g
• 3.5" x 2"
• Burn Time: 20+ hours
• Coconut apricot wax
• 100% paraben and phthalate-free, they contain no carcinogens, mutagens, reproductive toxins, organ toxins, or acute toxins
• Crackling wood wicks are sourced from FSC certified mills, and manufactured in the USA
• Hand-crafted in small batches in Franklin, NC
As our candles are hand-poured individually, slight variations and imperfections may occur by nature.
Refer to our Candle Care for important tips to fully enjoy your burning experience!
A portion of your purchase will be donated to organizations that are giving and spreading hope. To see who we are currently supporting, click here.
Have any questions? Refer to our FAQ or contact us here.
Scent Descriptions:
Italian Lemon + Juniper Water
Experience the unique smell of Italian Lemon + Juniper Water. An ozone accord perfectly balances the notes of white fig and woods with a splash of lemon, for a refreshing crisp and clean aroma.

Perfectly Peachy
Lovely like a summer's day, Perfectly Peachy exudes a crisp and fruit-filled scent thanks to the peach notes highlighted by white florals and musk. Capture the radiant essence of summer in this enchanting scent!

Natural Pineapple Juice + Kiwi
Enjoy the delicious tropical flavor of Natural Pineapple Juice + Kiwi. Made from pineapple nectar, sugared lime, and sweet melon, it's a delightfully refreshing blend of sweet and tart fruit flavors. Perfect for an island-style vibe any day.

Sparkling Grapefruit 
Experience a unique level of freshness with Sparkling Grapefruit. Notable notes of champagne, orange peel, grapefruit, and peach create a fruity and sparkling blend that's sure to please. This fragrance is crafted with natural essential oils such as Grapefruit, Lemon, and Galbanum, offering a vibrant and uplifting aroma.

Caribbean Breeze
Caribbean Breeze is a luxurious blend, combining fresh bamboo with smooth coconut. It will transport your senses with its clean, calming scent of line-dried laundry, light florals, and soft powder and sandalwood. Bring the spa atmosphere to any space with this unparalleled scent!
Share